PUPPY ITEMS NEEDED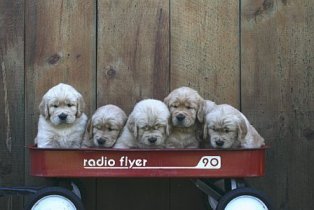 Well, we do need some things before you come to pick us up from my Breeder. Here is a great list that we recommended:
(Most of these items you can purchase at our local Pet store in Sudbury called Especially for pets.)
Crates: 42" crate for males or females
48" crate for males over 75 lbs
I like the Midwest metal crates with double doors
Make sure to get dividers for
growing pups. You can also get
these crates with triple doors for easy use in cars.
X-Pens: 48" high with door in silver or gold.
( I would buy extra heavy duty clips from
hardware store for added strength)
rubber flooring:
(I highly recommend you purchase this rubber flooring. You can cut rubber easily with scissors and make it the size you need for area where puppy will be in xpen and crate area. Keeps your floors protected, rugs protected and great traction for your puppy's needs.
For litter box training I use the following products up until the pup is 16 weeks old
Tractor Supply sells the rabbit tray and the horse pellets for litter box training.
here are the links to pellets I buy from Tractor Supply and the rabbit tray to put them in.
Grooming tools: bristle brush medium to soft
7" medium/fine comb, rake and /or
deshedding comb.
Treats:Vita Essentials freeze dried chicken or Beef treats
free range Bully sticks or Bravo Pizzles
Pig Ears. (Use in moderation)
I also recommend making your own treat with a dehydrator that you can purchase at Target or Wal mart.
You can hydrate vegetables, meat and fruit.
Safety and
Identification: Buckle collars martingale brand and leather leashes
Id tags for puppy with your name, address and phone number
and your dogs name.
I like to use both the Martigale collar and or the halter for training puppies.
Martingale collar
or a halter
micro chip your puppy at 6-9 months of age at your vets. make sure to register the chip.
Training and
Development: Puppy preschool and Puppy Kindergarden.
This is a must for every puppy.
Toys: No Nylabones!
Stay away from toys made in China....bad chemicals and toxic to puppies and dogs.
here are some links to purchase USA made toys:
USA MADE TOYS ONLY!!
CHECK OUT THESE WEB SITES
BAXTER BOO SELLS ONLY USA MADE TOYS
ALL NATURAL PETS SELLS USA MADE TOYS
Sleeping: No beds in the beginning. Use old towels that
can easily be washed for crates. LL Bean beds are the best for later use.
Bowls: Stainless steel bowls and or diners only
Buddy bowls for travel (no spill water bowls)
Nail grinder: click on link to order your own Dremel.
BOOKS:
-A must CD to play to your puppy.
Supplements
Dogzymes cran-tri-C
Supplements: Puppy to 8 months old give the following supplements