Golden-B-Bear Kennels
CRATE TRAINING YOUR NEW PUPPY

Buying a Crate: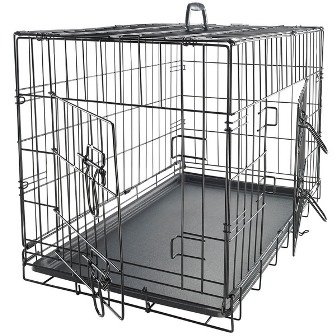 You can purchase most crates through pet supply outlets or your local pet store.
click below
I was lucky to find this information and thought I would pass it on to you. Please check with your local pet store what brands and types of kennel they recommend for your breed. I also recommend x-pens as well as babygates .
Here are the crates I recommend for your golden:
Large: (Vari-Kennel #400 or for small golden
General Cage #205/215) weight of 41-65 lbs
Extra Large: (Vari-Kennel #500 for large golden
Or Mid-West #89-Z, 89-E or 99) average weight 67-100lbs
Cost of crate vary between $55
And $150 depending on the size
And the type of crate and the source.
Duration of crating your puppy:
Here are my guide lines for
8 weeks…..I prefer to use an x-pen or baby gates at this age.
Needs to go out 10-12 times a day.
Puppy is too young to have sufficient bladder or sphincter control.
Find a confined area in kitchen (x-pen) or small room near you.
The use of baby gates to block an area off is a great resource.
9-10 weeks approx. 30-60 minutes
11-14 weeks approx. 1-3 hours
15-16 weeks approx. 3-4 hours
17 + weeks approx. 4+ (6 hours maximum)
Note: Except for overnight, neither puppies nor dogs should be crated for more than 5 hours at a time. (6 hours maximum!)
Never Crate as punishment, do not let children play in your dog's crate or to handle your puppy while he/she is in the crate. The crate is your puppy's private sanctuary. If your puppy cries incessantly in his crate then he has either been crated too soon or you have not taking the steps to insure a happy place for your puppy. Please follow the guidelines below in starting to crate train your puppy.
If your puppy is suffering from separation anxiety and is anxious about being left alone it maybe because your pup is simply under exercised. Others may not have enough attention paid to them. These pups may need another way in confining your puppy(see paragraph below) , along with increasing the amount of exercise and play your pup receives daily.
To Start:
Set your puppy's crate in your home where your family will congregate most.
Drop small pieces of treats in the crate throughout the day. While your puppy is investigating his new area of his home, the pup will discover his crate and the edible treasures inside, thereby reinforcing his positive associations with the crate.
I like to feed my pups in the crate and would start off by feeding them in front of the crate, then right inside the doorway and then, finally, in the back of the crate.
In the beginning, praise and pet your puppy when he enters the crate. Do not force the puppy or push him into the crate. Play a game with him by placing a treat in the crate. With encouraging voice, direct your puppy toward his crate. When the puppy discovers his treat, give great praise to him. This treat will serve as a primary reward. Your puppy should be free to leave its crate at all times during this game. Later, I would use your puppy's toy or favorite ball as a substitute for the treat.
I advise you to crate your pup for short periods of time while you are home with him. Crate training is best accomplished while you are in the room with your puppy. Getting him used to your absence from the room in which he is crated is a good first step. This prevents an association being made with the crate and your leaving him alone.
Be certain that your puppy has had time to eliminate just before being crated.
Another way to Confine Your Puppy
There are other ways to train your puppy and when left alone in the house for any length of time. I like to use x-pens which give more freedom than a crate but still keeps puppy safe. I suggest the following:
Use a small to medium-sized room space such as a kitchen, large bathroom or hallway with non-porous floors. You could set up the crate inside the x-pen as well. Place crate on one end of the enclosed area, the food and water a few feet away, and some newspapers (about the area size of 2'x3') maybe 3-4 sheets, several feet away. Remove any dangerous objects or substances. Use at least a 3 ft high safety-approve child's gate when confining your puppy to a room or area. Puppies will feel less isolated if it can see out beyond its immediate place of confinement. I highly recommend hiring a dog walker or a neighbor to let your puppy out. Keeping a good schedule for the pup will make a happy pup and less accidents in your home.
IMPORTANT REMINDERS WHILE CRATE TRAINING
Collars: Always remove your puppy or dog's collar before you put them in the crate.
Warm weather: Do not crate puppies during uncomfortable temperature levels. Goldens hate to be hot and prefer cold kitchen or basement floors. Alternative methods of confinement is a good idea here. Never leave an unsupervised puppy or dog outside or in your car during warm weather. Also, keep outdoor exercise periods brief until the hot weather subsides. Puppies and dogs can overheat very quickly.
Reasons your puppy is eliminating in crate:
The pup is too young to control its bladder
The pup ate a very large meal.
The pup did not eliminate prior to being confined.
The pup has worms. (see your vet with a sample of your puppies poop)
The pup has gaseous or loose stools.
The pup drank large amonts of water prior to being crated.
The pup is suffering from a health condition or illness (i.e., bladder infection, prostate problem, etc.) See your vet!
The puppy is experiencing severe separation anziety when left alone.