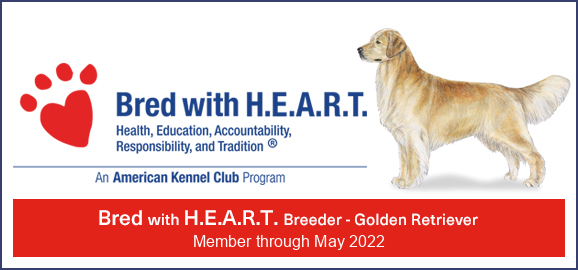 Welcome to Golden-B-Bear Kennel located in Plymouth, NH. I live on 18 acres of land which gives me plenty of room to let my dogs stretch out their legs to exercise in fresh air daily. Each of my dogs are foremost a family member and a big part of my life.
I have been breeding and showing goldens for almost 20 years and am proud of the goldens I have produced. My goldens have earned many titles in the breed ring, rally titles, therapy titles, CD and CGC titles. I have multiple Grand Champions, Champion, Rally , CGC, CD and Therapy titled dogs.
I have worked hard to follow a more holistic path for my goldens. I am committed to producing the healthiest in mind body and soul in my goldens. My goldens are feed the highest quality meats, supplements and purified water with the cleanest environment for them. I do minimal vaccinations and instead do titers to check immunity levels rather than re-vaccinating. I do not use any toxic chemicals in, on or around my goldens.
Producing goldens with wonderful temperaments and healthy immune systems is most important to me. Many of my puppies go to homes all over the United States and I feel very lucky to have such great families who travel far and wide to obtain one of my pups. My goldens have enriched many family lives bringing much love and devotion .
I am in good standings with multiple Clubs: Yankee Golden Retriever Club, Golden Retriever Club of America, Lakes Region Kennel Club and Framingham District Kennel Club.
CHECK OUT OUR CURRENT LITTER PAGE
FOR UPDATES ON OUR NEXT PLANNED LITTER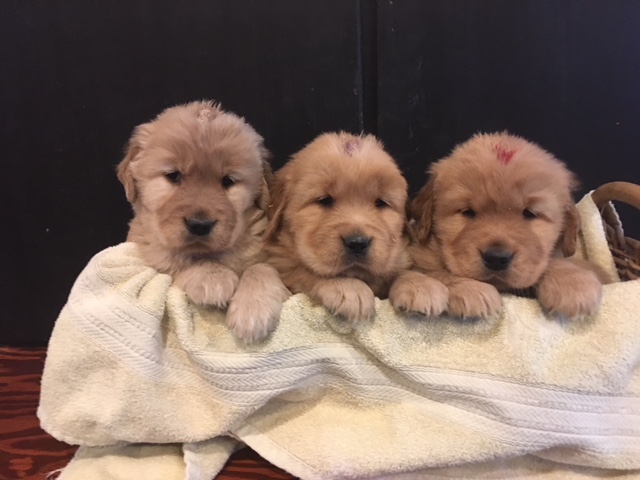 POSTED 1/5/2020
---
---
---
---
---
---
---
6/24/2017
WE HAVE A NEW GRAND CHAMPION IN THE HOUSE!!!
MY FIRST HOME BRED GRAND CHAMPION!
GCH. GOLDEN-B-BEAR ROYAL QUEEN OF HEARTS
"CHARLOTTE"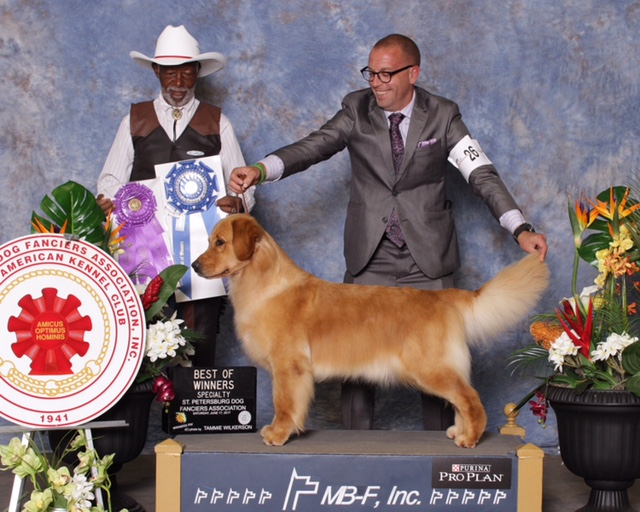 THANK YOU LENNY BROWN FOR PRESENTING CHARLOTTE IN SUCH GREAT FORM!
GCH / CAN CH. FOXRUN'S ISLAND OF ADVENTURE AT GOLDEN-B-B-BEAR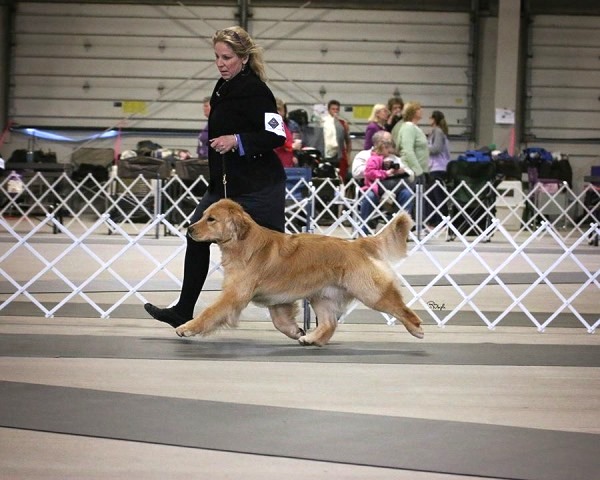 photo credit to Ree Maple
Golden-B-Bear takes a Holistic approach to rearing of all our dogs. We require our future puppy owners to follow our minimal vaccination schedule. To also follow a more holistic approach to control flea and tick prevention. All future puppy buyers are required to work with a Holistic vet who is a member of the AHVMA (American Holistic Veterinary Medical Association). Please check out my Recommended Holistic Vet page and find a holistic vet near you or go to the link Holistic Veterinarians' Association www.AHVMA.org To find a veterinarian in your area. I do require you feed a raw diet as well.
GOLDEN-B-BEAR ROYAL QUEEN OF HEARTS
"CHARLOTTE'
APRIL 2017
CHARLOTTE WINS HER 2ND MAJOR IN A VERY SHORT AMOUNT OF TIME BEFORE SHE TURNED 2 YEARS OLD. THIS IS A SKIPPER X MADISON DAUGHTER. SO SO PROUD OF CHARLOTTE AND TEAM LENNY BROWN.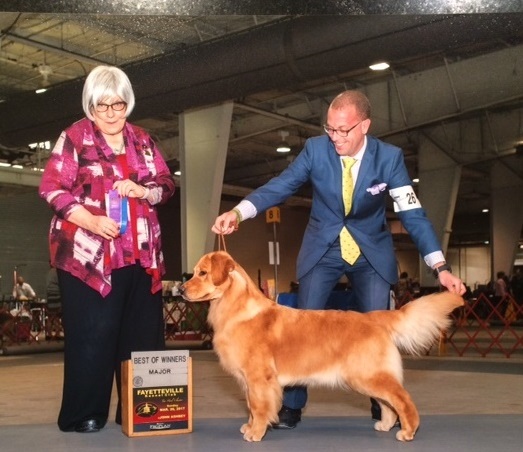 ---
---
GOLDEN-B-BEAR SHE'S MY UPTOWN GIRL
BRINKLEY
WINS BEST OF OPPOSITE FOR 2 PTS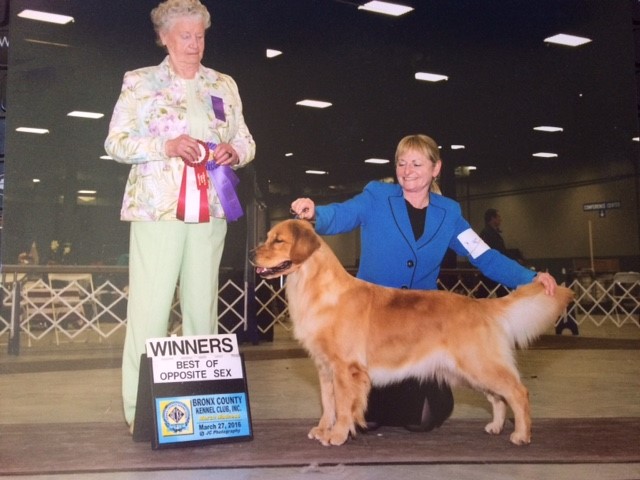 BRINKLEY WINS RESERVE WINNERS BITCH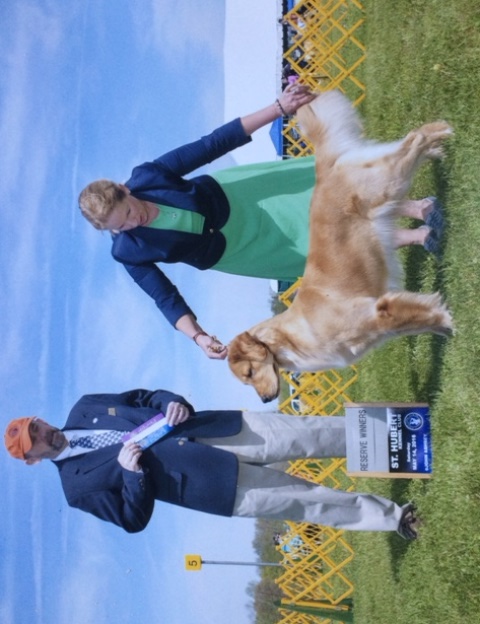 ---
AM. GCH. CAN. CH. FOXRUN'S ISLAND OF ADVENTURE AT GOLDEN-B-BEAR
"SKIPPER"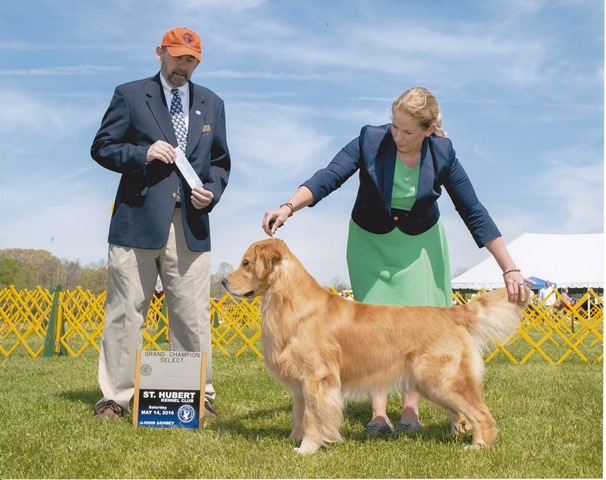 ---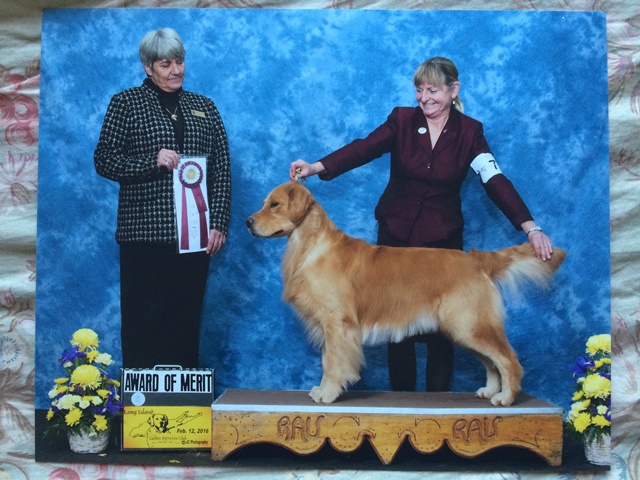 Skipper wins a JAM (Judges Award of Merit) at the LongIsland Specialty February 2016.
20 points so far towards his Grand Championship. He is racking up points quickly with 2 Best of Breed wins.
WE HAVE A NEW GRAND CHAMPION IN THE HOUSE!!!
SKIPPER FINISHED HIS American CHAMPIONSHIP APRIL 18, 2015
finished his Canadian Championship in September, 2015.
and GRAND CHAMPIONSHIP FEBRUARY 28, 2016
ALL BY THE AGE OF 3 YEARS OLD.
WE ARE SO PROUD OF HIM.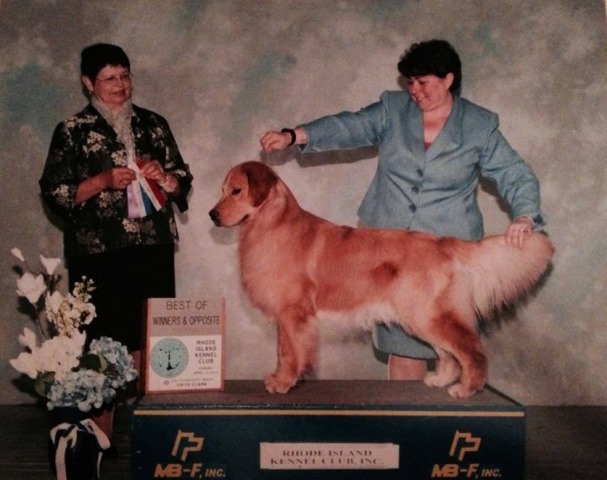 AM. GCH/CAN. CH. FOXRUN'S ISLAND OF ADVENTRURE AT GOLDEN-B-BEAR
"SKIPPER"

Golden-B-Bear Margarita On The House
THE MADISON X SCOUT LITTER 2013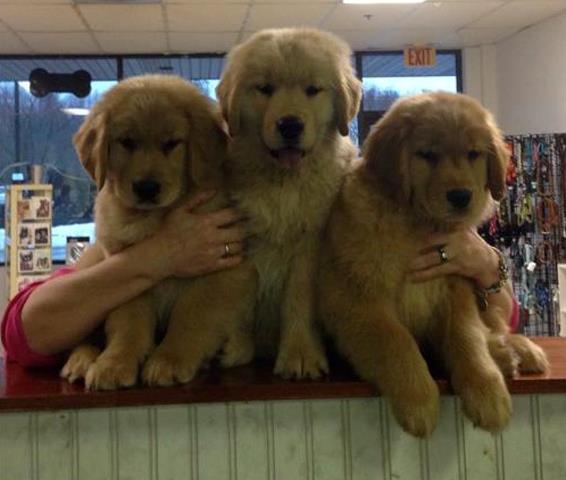 THE THREE AMIGOS........................CHANDLER, MONICA AND RACHAEL
---
We are located in New England in the lovely town of Plymouth, NH. Less than 2 hours from Boston, MA.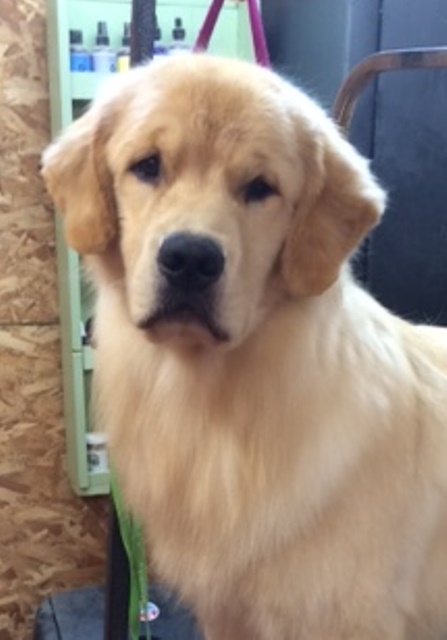 Gage @ 11 months old
So excited to have this beautiful sweet boy. Born July 2015. Great things
are planned ahead for this amazing boy.
Breeder of top quality golden retrievers for companion, competition, and working homes
since 1999.
Producing the Best by feeding a raw diet and using only holistic measures to keep them safe and healthy since 2006.
---
---
Golden-B-Bear Golden Retrievers is dedicated to producing top quality Golden Retrievers. I have been breeding, raising and showing goldens since 1999. I am a member in good standings with the American Kennel Club and a current member and past board member of Yankee Golden Retriever Club and past member of the Framingham District Kennel Club and current board member of the Lakes Regional Kennel club. All of my litters come from parents that are OFA hip, and OFA elbow clear. Their eyes are certified by a board ophthalmologist, screening for any abnormalities, and cleared of cardiovascular disease by a cardiologist. I am now performing 5 new genetic inherited test clearances for ichthyosis and prcd-PRA and PRA1 andPRA2 inherited eye disease and DM disease and also the newest genectic desease test called NCL. My goldens are raised with a holistic approach and a Natural rearing to diet and care.
My Goldens are fed a raw diet and I do minimal vaccinations.
I believe that the appropriate diet, less vaccinations, less toxic chemicals in and around them is key in raising a healthy immune system. To find out more about diet and vaccination protocols please see My raw diet page and vaccination page. My goal is to be the Top Breeder in my area that produces Healthier Goldens and Best tempered personalities and striving to keep to AKC Standards

I only breed Goldens who display the true Golden Retriever temperament.
My litters are born and socialized in my home at an early age until they come to you at 8 weeks of age. My pups have complete and thorough examinations by my vet at the age of 8 weeks and are guaranteed to be in good health on departure to their new homes. I sell my pups with a limited registrations. I do recommend that you spay/neuter after the age of 18 to 24 months. I will give guidance to each family in helping you raise your new puppy or dog in the holistic path for the life of your new golden. It is my passion and goal to make sure every puppy I produce has a clean slate and is given the best chance for a long and healthy life.
Welcome to Golden-B-Bear Kennels
(A Registered Kennel Name with AKC)
Breeder of Golden Retrievers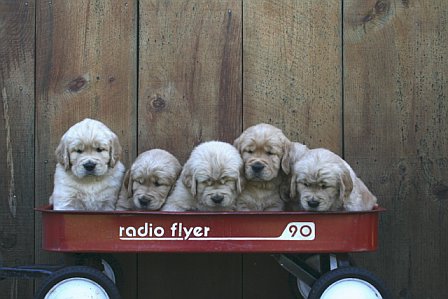 Bailey and Seger pups 2010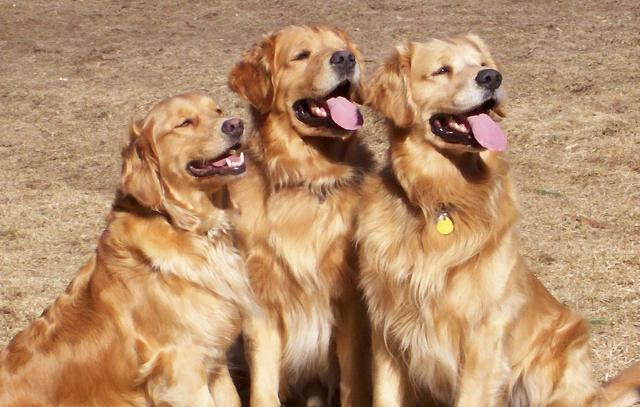 Morgan, Brady and Bear
Sometimes it can be overwhelming for some who are not sure what items are needed when raising a new puppy. I try to keep it simple buy helping you purchase only the items you really need. I will show you what items I recommend that will be very helpful for keeping your pup safe and happy.
I am committed to making sure of this and will continue to support your needs through out the life of your new golden. It is very important to me that these special pups get the right homes and the right start in life. I don't want to see any of my pups end up in a pound or worse in a home that won't take proper care of it. I do recommend you sign up for a puppy Kindergarten class or some form of puppy class. I Recommend the Yankee Golden Retriever Club puppy kindergarten program in Boxboro, MA. It is vital for your pup to get the right socialization at an early start and for you to get the basic training tips and care from a certified trainer.
. I am a member of 2 natural breeders groups: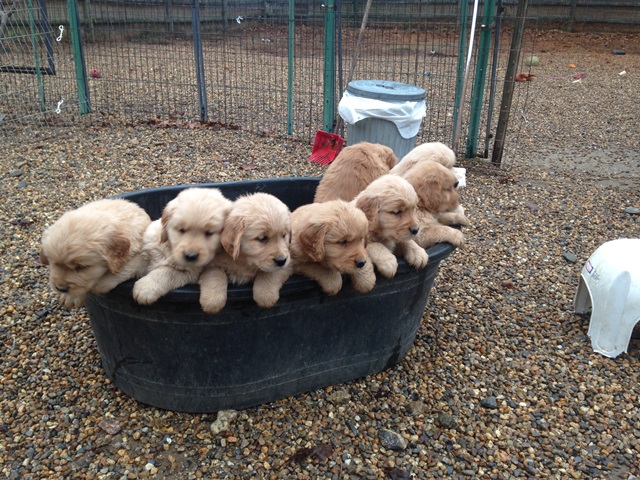 some of the Madison x Scout pups 2013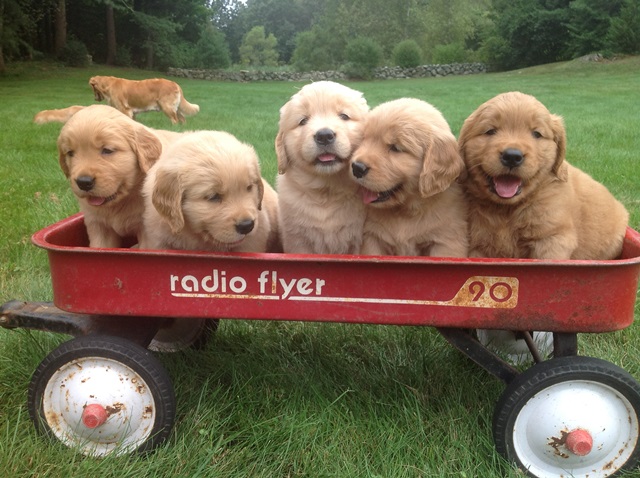 Scarlet x Scout litter 2013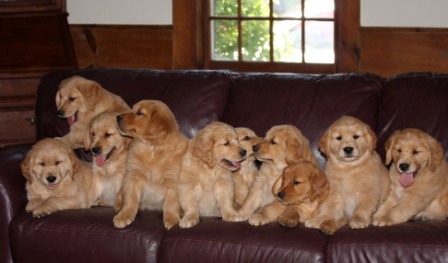 2010 litter.....can we watch Animal Planet.....please?
All of our puppies come with:
* AKC (limited) All puppies will be registered by breeder and (upon proof of spay/neuter) your AKC papers will then be sent to you.

* Vet Health Certificate

All new parents will be required to give the Parvo and Distemper Nosode treatment
* stool checked and dewormed

* 1 year guarantee ( for any genetic issue of hips, elbow or eyes) up to cost of a new puppy; Guarantee is only good on pups who are kept on a raw diet, and owner follows breeder's protocol on vaccinations and holistic ways. Vet records must show proof of a natural rearing.

* Lifetime breeder support

* Copies of Parents Clearances and photos will be in puppy folder
---
Our New Champion
"Mia"
Ch. Colonials Standing Ovation at Goldenbear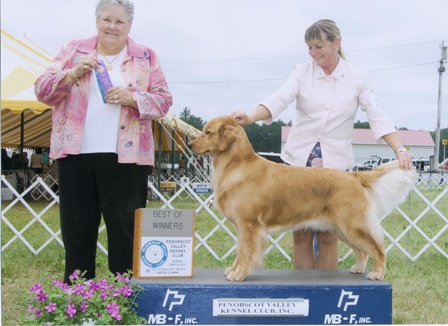 Click for more pictures of Mia
Our next beautiful girl working on her championship
is
Golden-B-Bear Margarita On The House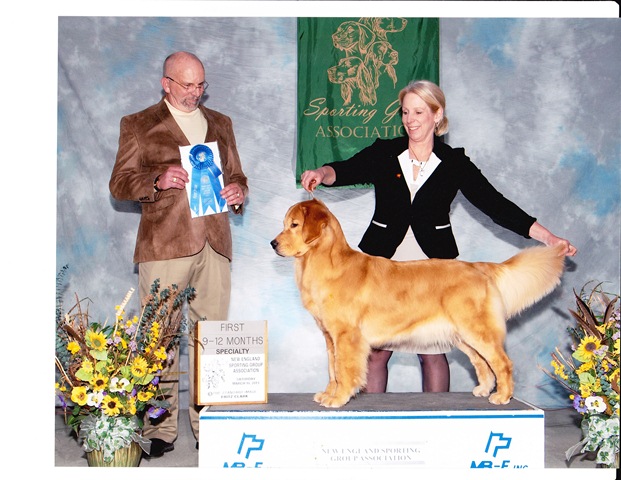 Margarita earned her first 3 pt major at 12 months old with handler Karen Mammano.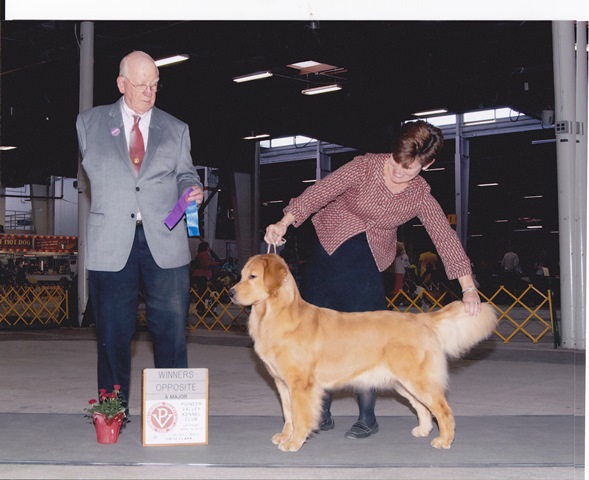 ---
Meet our beautiful boy Skipper!
Foxrun's Island of Adventure at Golden-B-Bear just earned his first point towards his Championship first weekend showing him at 9 months old!! Won Winners Dog at the Worcester County Kennel Club December 1, 2013. We are so proud of Skipper.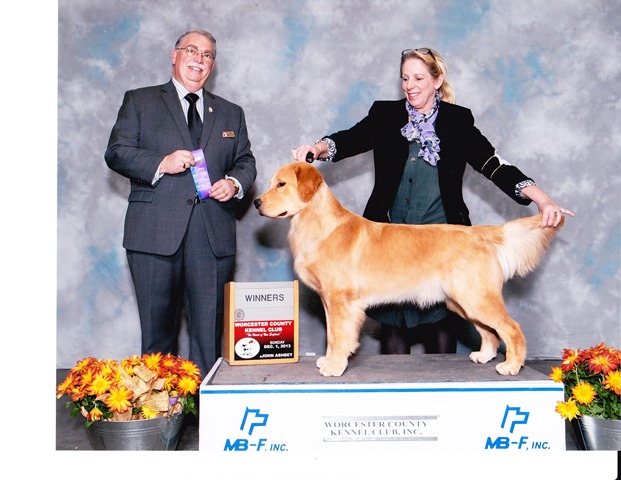 Skipper wins Back to Back Majors for a total of 6 points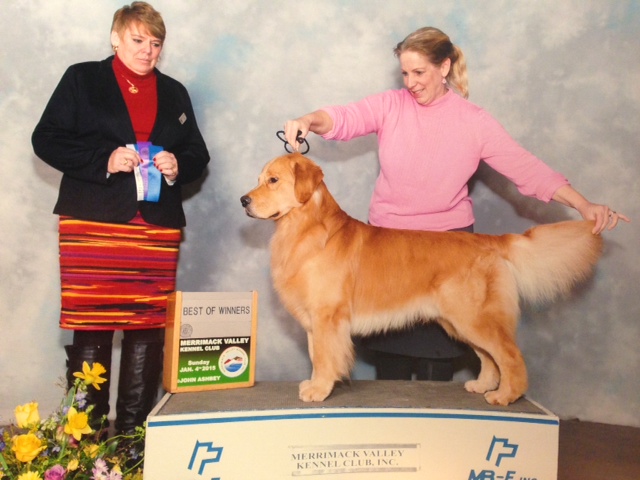 Skipper wins Best of Winners Saturday and Sunday
total of 4 points
Skipper only needs one more point to finish!!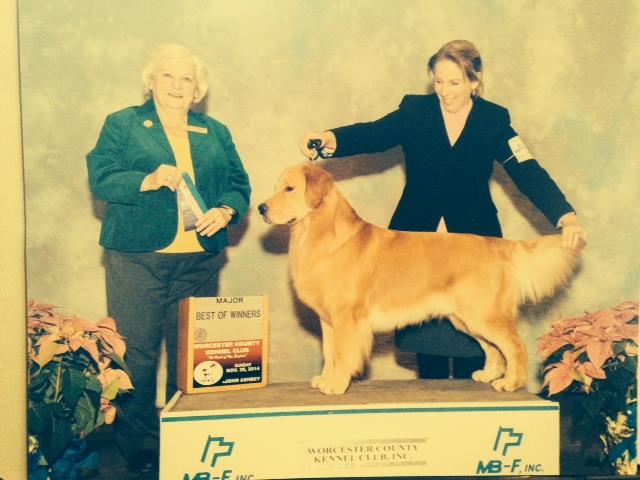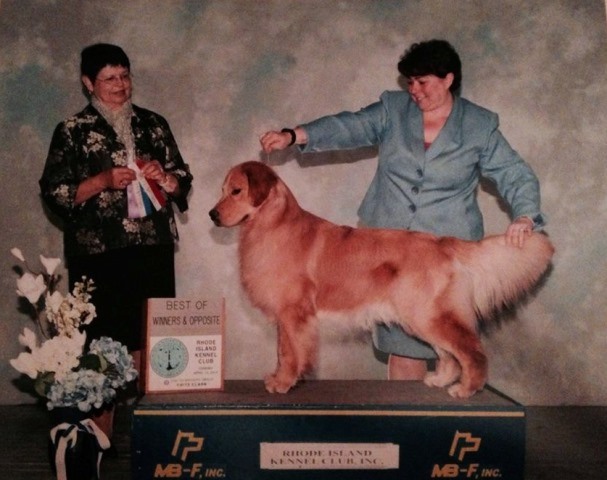 SKIPPER FINISHED HIS CHAMPIONSHIP!!!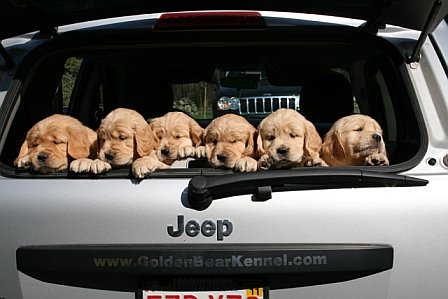 This should be in a Jeep Ad!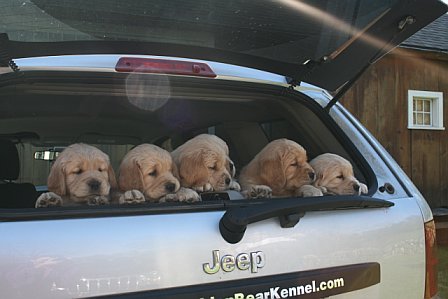 Bailey and Seger pups going for a little ride!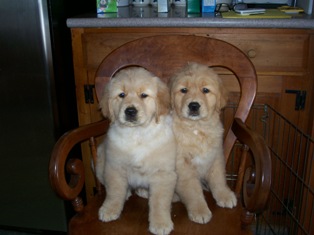 Dillan and Luke (Morgan and Dalton pups)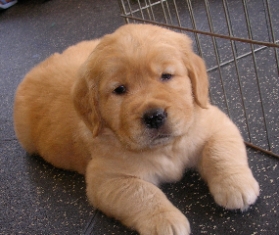 Shaun at 6 weeks from Bailey and Seger litter 2010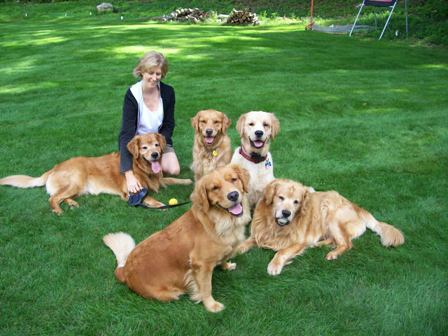 Some of our goldens relaxing in the yard!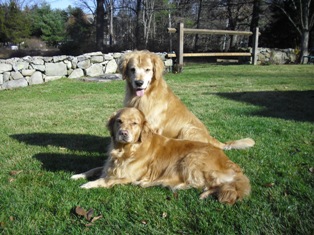 Morgan and Bear 2009
Bear 10 years old on October 2009!

Bear at 12 years old

Bear and Morgan's puppyea

Anne with Morgan and Dalton pups

(Dillan and Luke at 9 weeks old)

Morgan

and

Bear litter

March 20, 2008

Dillan at 9 weeks old. Where is the food!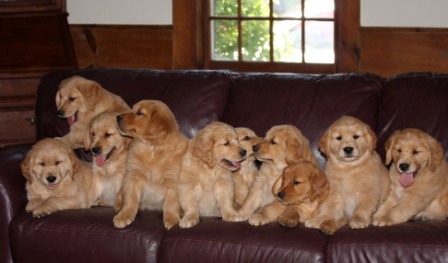 Morgan and Brady litter
| | |
| --- | --- |
| Madison and Surfer pups from Morgan and Connor litter 08/23/10 | |